Improved Connection Through A New Concept
Regenerative Boxing is a revolutionary concept created to help individuals battle early-onset Parkinson's and Alzheimer's Disease as well as help those experiencing the negative effects of aging and living sedentary lifestyles. This is all performed through the practice of professional boxing techniques. We are strengthening the mind and body connection to help you gain more control over your body.
Who is Regenerative Boxing For?
Those experiencing negative effects of aging
Those who want to be proactive with improving and preserving balance, mobility, coordination, reflexes and cognition
People dealing with chronic diseases such as: Early On-set Parkinson's Disease, Early On-set Alzheimer's Disease, COPD, Rheumatoid Arthritis, and other ailments negatively impacting ones balance, mobility, coordination, reflexes and cognition
Individuals living a sedentary lifestyle and want to begin exercising
Those who want to learn how to box from the comfort of their home
People desiring a higher level of cognition efficiency
Individuals wanting to decrease stress
What is Regenerative Boxing?
Course Details
Regenerative Boxing Origins
We created Regenerative Boxing after experiencing and teaching similar movements to the elderly and those battling Parkinson's. Having seen first hand how these movements helped individuals improve their physical, mental and emotional health, we established our primary goal; To research and develop a regenerative program to help people experience and enjoy a unique form of exercise.
80+ Rounds of Video Tutorials
Unlimited access to over 80 rounds of specific boxing movements shown to enhance mood, boost confidence, and improve balance, mobility, reflexes and cognition efficiency. Learn the basics of boxing, at your speed, while methodically progressing into more challenging and effective movements. All from the comfort of your home and with no equipment needed.
40+ Discounted Next Level Video Tutorials
Phases 1 & 2 are the essential structures of this program, but is only the beginning of Regenerative Boxing. For those looking for more of a challenge we created Phase 3, which consists of over 40 additional advanced Regenerative Boxing video drills.
*NOTE* Phase 3 should only be purchased if you have completed Phases 1 & 2 or have skilled boxing experience.
Lifetime Access
Immediate access to all purchased phases for LIFE, no monthly or annual renewals. Get access to a never before seen program shown to improve balance, mobility, cognition efficiency, reflexes and much more.
21 Day Money Back Guarantee
If you find regenerative boxing is not for you, receive a 100% full refund within 21 days of your purchase.
**NOTE** Phase 3 has NO money back guarantee.
This Is Regenerative Boxing
Hi we're Zach and Sinjen Smith Creators of Regenerative Boxing
Together we have a combined experience of over 20 years in combat sports and a lifelong journey of health and fitness. Having competed competitively in Collegiate Boxing and Professional Mixed Martial Art's, we have taken the years of training and skills learned to develop a concept of healing designed to transform the current paradigm surrounding human health.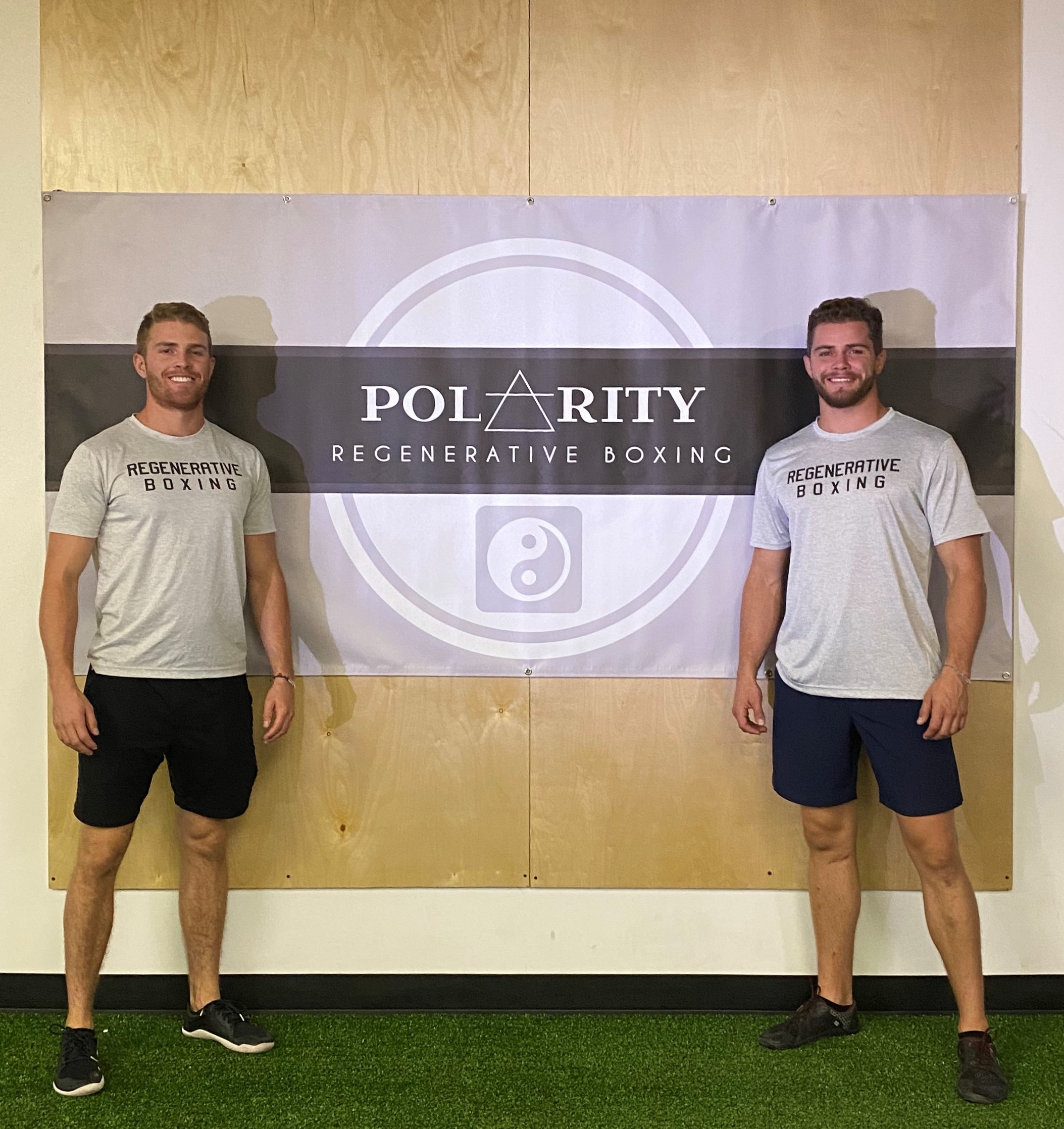 Hear What Others Have to Say!
"Great program. Starting day 1 it challenged my cognitive capabilities but using the tips provided and sticking with it I found that by the end of the week I was doing much better. By the end of the program I was picking up the movement sequences much better."
-Mike G
"It was a wonderful experience. Looking forward to Phase 3."
-Shawn E
"The boxing class helped with my balance, coordination, flexibility, and it also helped improve my memory."
-Marius P
"Your boxing class helped me build my endurance, strength, balance, and the habit of exercising on a regular basis."
- Jim L
"I benefited from Regenerative Boxing in developing fundamental boxing skills and as a way to keep fit and healthy"
-Luis E
"Boxing is a full body exercise if done correctly. It has strengthened my legs and arms, helped me with balance and boosted my confidence."
- Lou Y
"I was diagnosed with Parkinson's three years ago and felt my coordination and cognition quickly dissipating. I knew I needed physical activity, but also knew I needed more than just a typical workout. I was looking for something mentally and physically stimulating. This is exactly what the boxing class has provided for me."
- Betsy L
"When I first started Regenerative Boxing I was holding onto a chair because I didn't trust myself, I knew my balance wasn't the best. By the end of the program I was doing things on one leg.
- Cindy B
Regenerative Boxing Custom Coaching
We want to give you the opportunity to succeed as much as possible, which is why we are offering Regenerative Boxing custom coaching throughout the 12 week program.
You will receive:
Regenerative Boxing Phases 1-3 FOR LIFE
100+ Rounds of Video Tutorials. Unlimited access to over 100 rounds of specific boxing movements shown to enhance mood, boost confidence, improve balance, mobility, reflexes and cognition efficiency. Learn the basics of boxing, at your speed, while methodically progressing into more challenging and effective movements. All from the comfort of your home and with no equipment needed.
24/7 Access to Your Coach
You will be communicating directly with Sinjen or Zachary on a regular basis to ensure you are staying consistent through out the twelve weeks. We will hold you accountable in order to truly succeed in this program and you will be able to contact your coach at any given time you need. Sinjen and Zachary will help you through any road blocks that may occur along this journey while keeping you motivated and on track for the entire 12 weeks.
Custom Fitness & Nutrition
You will receive access to a private training app where your coach will develop custom exercise routines paired with guided nutrition to compliment your Regenerative Boxing practice and further help you reach your ultimate goals.
BONUS!
1 on 1 Video Calls with Zachary or Sinjen
If you find yourself struggling with form or any concepts in Regenerative Boxing, as an added bonus you and your coach can schedule a facetime or zoom training session to personally be critiqued on your form and have any questions answered. As well as, discuss your progress and how to proceed through the Regenerative Boxing course, ensuring your success in the program.
BONUS!
Live Group Seminars
Zachary and Sinjen will be hosting special live group seminars for all their clients and guests to connect, answer questions, talk health, discuss Regenerative Boxing, demonstrate techniques, and help you master this program so you can further take control of your life!
Imagine What It Will Feel Like to Have More Confidence, Greater Balance, Healthier Mind, Body, and Spirit, Allowing You to Continue Doing The Things You Love!
Click the Button Below to Enter Your Email and Schedule a Call to See if This is The Program You've Been Waiting For!
Regenerative Boxing Phases 1 & 2
Phase 3!
Phase 3 is intended for those who have successfully completed Phases 1 & 2 or who have skilled boxing experience.
**NOTE** There is no refund for Phase 3
LEARN MORE ABOUT PHASE 3 BY WATCHING THE VIDEO BELOW
Frequently Asked Questions
How soon can I begin once I'm enrolled?
As soon as you are ready. Once you have established your username and password you will have immediate access to the course curriculum.
Do I have to be connected to Regenerative Boxing to view my courses?
Yes
Do I need any prior boxing experience to partake in the program?
NO PRIOR EXPERIENCE NEEDED! We start from the basic fundamentals to ensure we have set a strong foundation to build upon. Safety is our priority.
When can I enroll in Phase 3?
You should only enroll in Phase 3 after completion of Phases 1 & 2 and feel confident in your Regenerative Boxing capabilities.
What if I am not satisfied with the course or unable to proceed in the program?
If you are not completely satisfied or this program is not what you were looking for, contact us within 21 days of purchase and you will receive a full refund.
Can I perform the physical activity required in Regenerative Boxing?
Regenerative Boxing is intended for individuals who have mobility, balance, coordination, reflex issues and early onset cognitive disorders. This program is very progressive and can be performed by most individuals who have the ability to standup with no support and can walk. We do advise consulting with your physician before beginning any exercise program.
Will Regenerative Boxing show me how to properly box?
Yes. If you are wanting to learn the most important details of boxing, this program is for you. Learn proper boxing technique from the ground up.
Do I need any equipment?
No equipment is required. All you will need is a small open area.
DISCLAIMER
No part of this publication which includes all videos may be reproduced or stored in a retrievable system or transmitted in any form or by any means except as permitted under the United States copyright act without the prior expressed written consent of POL-AIR-RITY, Limited Liability Corporation and its owners. While we use our best efforts in preparing this content for this site, Regenerative Boxing is not meant to treat or cure any diseases, illnesses, medical conditions and/or limitations. We make no representations or warranties with respect of the accuracy or completeness of the content of the videos including any content links or resources shared including those by third parties. Furthermore, all parties specifically disclaim any expressed or implied warranties of merchantabilities or fitness for particular purpose. Please consult your physician prior to beginning Regenerative Boxing. The advice and strategies contained herein may not be suitable for everyone. Individuals experience benefits in different ways and at different rates. The benefits mentioned throughout the program may or may not be experienced by you the viewer/participant. The assumption of risk by participating in this program is solely taken over by you the participant/viewer of the Regenerative Boxing program. POL-AIR-RITY, LLC is released from all liability and the viewer/participant assumes all risk when participating in Regenerative Boxing. Your use of this site and watching of these videos confirms your agreement to assume all risk of injury in the use of this program.
Contact us at: [email protected]